1. Al comenzar este día de encuentro,Tomemos unos momentos para hacer silencio, tomar consciencia de nuestra presencia aquí, de la cadena de vida en la cual estamos,de la Presencia de Dios que nos habita.
2. Hoy trataremos de reflexionar y dialogar sobre el tesoro de nuestros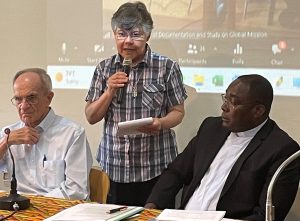 Carismas y nuestros esfuerzos de fidelidad, en los días de hoy.
Retomamos unos párrafos del Documento de la Congregación para los Institutos de Vida Consagrada – Para vino nuevo odres nuevos.
"Tras medio siglo del Concilio Vaticano II, podemos reconocer que el efecto que la mens conciliar ha producido en la vida religiosa ha sido particularmente rico."
"…la vida consagrada ha puesto en juego sus múltiples carismas y su patrimonio espiritual exponiéndose y abrazando con generosidad nuevos caminos". (Para vino nuevo odres nuevos n. 4).
3. La Palabra de Dios en el Libro de Isaías nos invita y nos desafía a darnos cuenta de la novedad, a acogerla y a entrar en su dinámica.
Look at the new thing I am going to do.
It is already happening. Don't you see it?
I will make a road in the desert and rivers in
the dry land. (Isaiah 43:19)
4. Hace varios años, Cardenal Pironio, entonces prefecto de la Sagrada Congregación de Vida Consagrada, dijo:
Un capítulo es siempre una celebración Pascual, por eso debe ser encuadrado en un contexto esencial de Pascua; con todo lo que la Pascua tiene de Cruz y de Esperanza, de muerte y resurrección.
Un capítulo comporta una dimensión de novedad pascual, de creación nueva en el Espíritu, de esperanza firme y comprometida. Todo Capítulo tiene que dejar una sensación de frescura…
5. En general, los Capítulos tienen un tema, que es una síntesis de nuestra búsqueda de respuesta en fidelidad.
Propongo ahora recordar el tema de nuestro último capítulo general.
Aún que no sea con las palabras exactas, vamos a decirlo en voz alta, compartiéndolo.
Entre todos acogemos esas expresiones tan cargadas de contenido para cada Instituto
y las presentamos a Dios, como nuestra oración de agradecimiento
y a la vez, reconociendo cuanto necesitamos
Su Gracia para llevarlo a la práctica.
6. Digamos juntos
El dueño de la viña, que ha fecundado la obra de nuestras manos y ha guiado los caminos de la actualización, nos conceda custodiar con oportunos medios y con paciente vigilancia la novedad que nos ha confiado, sin temor y con renovado afán evangélico. (Para vino nuevo odres nuevos, n. 56)
7. Vivimos tiempos desafiadores. Son tantos los gritos de la vida amenazada. Gritos que nos alcanzan y nos interpelan en nuestra humanidad y en nuestra fe.
Terminemos este momento de oración, rezando y comprometiéndonos juntos por la vida, el amor, la paz.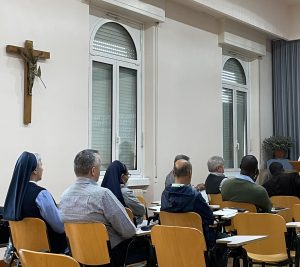 8. Dio, fammi strumento della Tua pace,
Dove c'è odio portare l'amore
Dove c'è offesa donare il perdono
De c'è il dubbio infondere fede;
Ai disperati ridare speranza,
Dove c'è il buio far sorgere il sole,
Dove è tristezza diffondere gioia,
Donare gioia e tanto amore,
Gioia ed amore, gioia ed amore!
Dio, fammi strumento della Tua bontà
Dammi la forza di consolare i cuori;
Non voglio avere ma solo donare,
Capire ed amare i miei fratelli.
Sole se diamo riceveremo
Se perdoniamo avremo il perdono,
Solo morendo rinasceremo,
Rinasceremo, rinasceremo,
Rinasceremo, rinasceremo!