Recently I was out shopping. At the OVS store, a homeless man sat in the doorway looking at me with pleading eyes. The kind of look that could make you feel guilty for having any money in your pocket.
"What can I give him?", I wondered. Well, I can't give him my credit card. But I have some cash. In my mind I started dividing up the cash I had in my pocket. The temptation would always be to give him the loose change, rather than the bank notes.
What a gift that God doesn't do this to us. We don't get the left-overs. We get the lot. God gives everything; God's total self in the Birth of Jesus. Christmas is a season for giving. It's what brings us joy. There is so much more joy in giving, than in receiving.
Being a part of the SEDOS family is like that. We come to explore the world of Mission and to give what we can to enable that Mission of God's love grow among us and throughout the world. We are not necessarily Missionaries by being in SEDOS, but we promote them. We are their resource people. We are a forum of religious belonging to Institutes of Consecrated Life who commit themselves to deepening their understanding of global mission. We dig deep into our pockets to encourage research and disseminate information through our SEDOS Bulletin, website, public conferences, workshops, and annual seminars.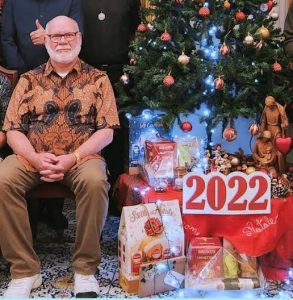 This year I have not been able to be as involved as usual due to Congregational commitments, but I have witnessed much activity taking place. This year our new Executive Director has had to find his feet in his role and has worked hard to encourage our involvement. I take this opportunity to thank the Executive Director, Fr. John Paul Herman, SVD, who has been on a huge learning curve and given not just the cash in his purse, but I suspect many times more. He has given the credit card also. Of course, we are all aware of the crew that supports his work, the SEDOS Secretary Sr. Celine and the Technology Assistant Sr. Christina, and we say thanks to them for their fine contribution, keeping us in contact and informed of what's going on, as well as the many back-room tasks they attend to.
I am here speaking to you because two very busy Superiors General cannot do so. And how anyone could think of leading a religious congregation, As Well AS being President or Vice-President of an organisation like SEDOS at the same time is remarkable!! We take our hats off to them both, Sr. Mary Barron, of the Sisters of Our Lady of the Apostles, President of the SEDOS Executive Committee, and Vice-President, Fr. Alain Mayama, of the Spiritans. I wish to express everyone's appreciation of their leadership, willingness, and generosity. Thank you.
Like any good team, I guess that leaders can only take on extra tasks like SEDOS, because they have good support. The SEDOS Executive Committee, Fr. André-Leon Simonart, Sr. Geni Santos Camargo, Fr. Renè Stockman, Sr. Anna Damas, Sr. Oyidu Okwori, and Sr. Maria Jerly the SEDOS Treasurer have each contributed to the work of SEDOS. We thank all of them for their involvement in the Church's prophetic mission in the world.
SEDOS is not just an institution, it is people. People like you. It is people like you who open your purse to offer all you have so that those begging at the doorways of mission can be nourished and supported.
When I arrived in Rome, I was told that I needed to learn three important Italian words. The first word was pazienza, the second word was non-funziona, and the third word was Sciopero!! Well, this Christmas party tonight, could have been derailed by the third of those words. However, your presence bears witness to that generosity and to your capacity to create joy and hospitality, showing that non-funziona cannot overcome you. And you have shown by being here and giving all, you have that we have all learnt the importance of the first word – pazienza.
We thank all those who have had some part in preparing tonight's celebration. Particularly John Paul, Celine and Christy. At Christmas Time we give thanks to God for you all and we ask God to bless each of you serving the mission of God in the world with continuing generosity.
SEDOS Executive Committee – 2023
President                                  Sr. Mary Barron, OLA                                Sisters of Our Lady of the Apostles
Vice President                         Fr. Alain Mayama, CSSp                          Congregation of the Holy Spirit (Spiritans)
Councillors                                Fr. André-Leon Simonart, M.Afr          Missionaries of Africa
Councillors                                Fr. Chris Chaplin, MSC                            Missionaries of the Sacred Heart
Councillors                                Fr. Renè Stockman, FC                           Brothers of Charity
Councillors                                Sr. Anna Damas, SSpS                           Missionaries, Sisters Servants of the Holy Spirit
Councillors                                Sr. Geni Santos Camargo, SFB             Sisters of the Holy Family of Bordeaux
Councillors                                Sr. Oyidu Okwori, SHCJ                         Society of the Holy Child Jesus
Treasurer                                   Sr. Maria Jerly, SSpS                               Missionaries, Sisters Servants of the Holy Spirit
SEDOS Team
 Executive Director               Fr. John Paul Herman, SVD                       Society of the Divine Word
Secretary                                Sr. Celine Kokkat, CJMJ                             Congregation of Jesus Mary Joseph
Digital Assistant                   Sr. Christina, CJMJ                                       Congregation of Jesus Mary Joseph
Translator                               Ms. Philippa Wooldridge