SEDOS MISSION SYMPOSIUM 2021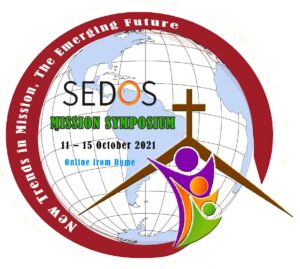 11 – 15 October 2021
(Online from Rome)
With over 

35 speakers

 from all over the world; Possibility to join online 

discussion groups

 in the mornings; Translation in 

four languages

: Italian, Spanish, French, English!
SYMPOSIUM PROGRAM in Four Languages:
(EN) -Program SEDOS Mission Symposium 2021 (15 Sept.)
(FR) -Programme du Symposium de mission SEDOS 2021 (15 Sept.)
(IT) -Programma del simposio della missione SEDOS 2021 (15 Sept.)
(SP) -Programa del Simposio de Misión SEDOS 2021 (15 Sept.)
The Symposium talks will be published by ORBIS BOOKS by June next year under the title: NewTrends in Mission, The Emerging Future. There will be thus no texts available directly after the talks at the Symposium as they are already copyrighted.
FRONT COVER OF BOOK:    New Trends in Mission
Program SEDOS MISSION SYMPOSIUM (draft 15 Sept.)
ONLINE (from Rome)
11 – 15 October 2021
TIME MONDAY, 11/10/2021 Opening Session
15:00 – 15:15 Opening Prayer (in different languages)
15:15 – 15:30 Opening Address:
The Mission of SEDOS
Fr. Tesfaye T. Gebresilasie, MCCJ, SEDOS President (EN)
(Superior General of the Comboni Missionaries)
15:30 – 16:00 Introduction and Orientation
Fr. Peter Baekelmans, CICM, Director of SEDOS (EN)
New Trends in Mission
(Guest Professor at the Catholic University of Leuven, Belgium)
16:00 – 16:30 INAUGURAL ADDRESS:
H. Em. Luis Antonio CARDINAL TAGLE
Propaganda Fide, Rome (EN)
16:30 – 17:00 Coffee / Tea Break (video)
17:00 – 18:00 Opening Keynote Speech:
Fr. Paul Béré, SJ (EN)
POPE FRANCIS IN MISSION
A Call to Hear the Crying Existential Peripheries
(Professor at Pontifical Gregorian University, Rome)
TIME TUESDAY, 12/10/2021 Evangelization and Mission
10:00 – 11:00
Moderator: New Trends in Mission (each talk 20 minutes)
1. Sr. Marie-Hélène Robert, OLA (FR)
Mission and the Search for Unity
(Professor at the Catholic University of Lyons, France)
2. Fr. Tim Norton, SVD (EN)
Culture and the Experience of God
(Member of the SVD Retreat House Ad Gentes, at Nemi, Rome)
3. Sr. Monique Tabareh, RGS (SP)
Connectedness and Friendship
(Sister of Our Lady of Charity of the Good Shepherd)
11:00 – 12:00 Discussion in language groups
14:00 – 14:15 Prayer in Italian / Orientation — Moderator: Fr. Bryan Lobo, SJ (EN)
14:15 – 15:00 The What of Mission Fr. Jose Palakeel, MST (EN)
Refining our Comprehension of Mission
(Dean of Studies at Ruhalaya College of Theology, Ujjain, India)
15:00– 15:45 The Why of Mission Sr. Rekha Chennattu, RA (EN)
Biblical Foundations
(Mother General of the Religious of the Assumption)
15:45 – 16:15 Coffee / Tea Break (video)
16:15 – 17:00 Mission Theological Evolutions Fr. Stephen Bevans, SVD (EN)
A Theology of Mission
(Professor at the Catholic Theological Union of Chicago, USA)
17:00 – 17:45 The Role of Missionary Religious Institutes Fr. Aloysius Pieris, SJ (EN)
(to be confirmed)
To be "Frontier Missionaries" (apostoloi)
(Director of the Tulana Research Center for Encounter and Dialogue, Sri Lanka)
17:45 – 18.00 Question and Answer Session
Closing Remarks
TIME WEDNESDAY, 13/10/2021 Ways in doing Mission
10:00 – 11:00
Moderator: 1. Sr. Agnes Lanfermann, MMS (EN)
Healing as Mission
(Former Superior General of the Medical Mission Sisters)
2. Sr. Maria Antonetta Pereira, FMM (EN)
The Transforming Role of Education
(Member of the Community of the International Noviciate, Rome)
3. Fr. Daniel Huang, SJ (EN)
Mission in a Secular Age
(Professor at the Pontifical Gregorian University, Rome)
11:00 – 12:00 Discussion in language groups
14:00 – 14:15 Prayer in Spanish / Orientation — Moderator:
14:15 – 15:00 The How of Mission Fr. Pudota Rayappa John, SJ (EN)
Going Outside the Gates for the Kingdom's Sake
(Principal of Vidyajyoti College of Theology, Delhi, India)
15:00 – 15:45 The Who of Mission Sr. M.T. Ratti, I. Colombo, Sr. H.I.S. Kamkol, CMS (SP)
"We" are Mission
(Comboni Missionaries to Kenya, …. )
15:45 – 16:15 Coffee / Tea Break (video)
16:15 – 17:30
Panel on Inter- religious Dialogue
– Sr. Maria De Giorgi, MMX (IT) (Interreligious dialogue)
Interreligious Dialogue in the context of Mission
(Member of Dialogue and Retreat Center Shinmeizan, Japan)
– Fr. John Mallare, CICM (EN or FR) (Dialogue with Islam)
A Mission of Mercy
(Doctor of Arabic and Islamic Studies, Senegal)
– Fr. Gerard Hall, SM (EN) (Dialogue with Eastern Religions)
Trusting Christianity's "Incarnational" Thrust
(Former Head of the School of Theology at Australian Catholic Univ.)
– Sr. Robyn Reynolds, OLSH (EN) (D. with Indigenous Religions)
A Deepening Engagement
(Yara Theological Union, Melbourne, Australia)
– Fr. Bede Ukwuije, CSSp (EN) (D. with African Traditional Religions)
Working together to Promote the Culture of Life
(1st Assistant to the Superior General of the Spiritans, Rome)
17:30 – 18:00 Question and Answer Session
Closing Remarks
TIME THURSDAY, 14/10/2021 Ways in doing Mission
10:00 – 11:00
Moderator:
1. Fr. Lazar T. Stanislaus, SVD (EN)
Growing as a Missionary Parish
(General Mission Secretary of SVD, Rome)
2. Mr. Oliver Aquilina, SDC (EN)
The Laity, More Than a Lending Hand
(Works in the SDC missions in Kenya)
3. Br. Nestor Anaya, FSC (SP)
Participation of Youth in the Mission of the Church
(General Councillor of De Lasalle Brothers)
11:00 – 12:00 Discussion in language groups
14:00 – 14:15 Prayer in French / Orientation — Moderator: Fr. Jose Palakeel, MST (EN)
14:15 – 15:00 The When of Mission Fr. Alfred Maravilla, SDB (EN)
Rediscovering Initial Proclamation
(Salesian General Councillor for Missions, Rome)
15:00 – 15:45 The Where of Mission Fr. Anthony Akinwale, OP (EN)
Fifty Years of Ad Gentes in Africa
(Vice-Chancellor Dominican University Ibadan, Nigeria)
15:45 – 16:15 Coffee / Tea Break (video)
16:15 – 17:30
Panel on Justice, Peace, and Wholeness of Creation
– Sr. Vijili Dali, DMI (EN)
Mission with Migrants
(Africa Mission Director of DMI Sisters)
– Sr. Marvi Delrivo, Sr. Licia Mazzia, SFP (IT)
"The Poor you will always have with you" (Mt 26:11)
(First Councillor of Franciscan Sisters of the Poor)
– Sr. Anne Béatrice Faye, CIC (FR)
The New Face of Evangelization in Africa
(General Councillor of the Srs of ND of the Immac. Conc., Senegal)
– Sr. Mary Barron, OLA (EN)
Woman and Mission
(General Superior of the Srs of Our Lady of the Apostles)
– Fr. James Kroeger, MM (EN)
Peace Promotion as Integral Part of Evangelization
(Professor at Loyola School of Theology, the Philippines)
17:30 – 18:00 Question and Answer Session
Closing Remarks
TIME FRIDAY, 15/10/2021 Closing Session
10:00 – 12:00
Discussion in language groups
15:00 – 15:15 Prayer in English / Moderator: Fr. Peter Baekelmans, CICM
15:15 – 16:00 Closing Keynote Speech: INTEGRITY OF CREATION
Sr. Ilia Delio, OSF (EN)
Our Work is Loving the World
(Connelly Chair in Theology, Villanova University, USA)
16:00 – 16:45 Closing Remarks:
Sr. Marie-Hélène Robert, OLA (FR)
The Emerging Future
(Professor at the Catholic University of Lyons, France)
16:45 – 17:15 Coffee / Tea Break (video)
17:15 – 17:30
SEDOS MISSION STATEMENT
(based on the results of the Symposium)
17:30 – 17:45
Message from His Holiness Pope Francis
(to be confirmed)
17:45 – 18:00
CLOSING ADDRESS
Sr. Mary Barron, OLA, SEDOS Vice-President (EN)
(Superior General of the Sisters of Our Lady of the Apostles)