Fr. Peter Baekelmans was appointed the Director of SEDOS in January 2016. He was born in Belgium (07.08.1960) and is a member of the Congregation of the Immaculate Heart of Mary, CICM. He has been a missionary to Japan (1990-2010), and to Belgium (2011-2015). He teaches Buddhism, Hinduism, and Eastern Religions at the Theological Faculty of the Catholic University of Louvain (KU Leuven), Belgium.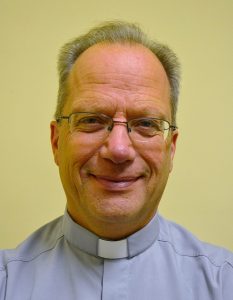 Studies:
Comparative Religion (MA, Int. Univ. of Lugano, Switzerland);
Theology (BA, KU Leuven, Belgium)
Buddhist Studies (MA, Koyasan Univ., Japan);
Theology of Religions (PhD/STD, Nanzan Univ., Japan).
Publications:
Shingon Mysticism, Koyasan Publications, 2006, 172 pp.
イエスと空海、不二の世界, Nakanishiya Publ., Kyoto, 2012, 451 pp.
Wereldwijd, Verhalen van overal, Uitgeverij Pelckmans, 2012, 207 pp.
Anders Denken, Halewijn, 2015, 167 pp.
Jesus and Kukai, A World of Non-Duality, Franz Schmitt Verlag, 2018, 256 pp.
Recent activities:
Article: Need for Structural Changes in Mission, Ordenskorrespondenz, n.60, pp. 90-99, Germany 2018 (taken up in SEDOS Bulletin, vol. 51, 3-4).
Talk: Interreligious Dialogue, an Asian Perspective, to Asian Ambassadors to the Holy See at the Pontifical Urban University, Rome, July 2019.
Talk: How can we cultivate an interior missionary spirit and zeal?, to members of the Society of Christian Doctrine at M.U.S.E.U.M., Valletta, Malta, October 2019.
Talk: Characteristics of the Japanese Church, at the Belgian Embassy to the Holy See, Rome, November 2019.
Member of the Editorial Board of SPIRITUS and of CURRENT DIALOGUE.